Proudly supporting OCLI Vision
and other affiliated practices.
Adam Botwinick, MD and Ashwinee Ragam, MD are the Latest Doctors to Join the OCLI Team of Eye Surgeons
Posted on October 3, 2022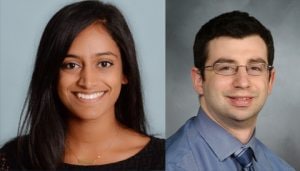 OCLI announced today it will be welcoming Adam Botwinick, MD and Ashwinee Ragam, MD to the OCLI team of doctors, beginning August 1st, 2019.
GARDEN CITY, N.Y. (PRWEB) JULY 03, 2019
OCLI, a Spectrum Vision Partners (SVP) managed practice, today announced it will be welcoming Adam Botwinick, MD and Ashwinee Ragam, MD to the OCLI team of doctors. Dr. Botwinick, a Glaucoma and Laser Cataract Surgeon, will begin seeing patients on August 1, 2019, in OCLIs East Meadow and Valley Stream locations. Dr. Ragam, a Cornea, Laser Cataract & Refractive Surgeon, will begin seeing patients on August 1st, 2019 in our Hicksville, Port Jefferson and East Setauket locations.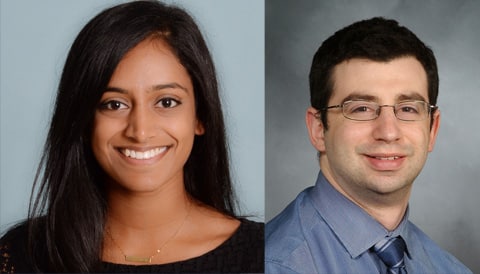 Dr. Botwinick joins OCLI after his impressive training in various leading New York Institutions, including his recent fellowship training in Glaucoma and Laser Cataract Surgery. Dr. Botwinick received his medical degree from the New York University School of Medicine in 2011 and was inducted into the Alpha Omega Alpha honor society for his academic achievements. Dr. Botwinick completed an internal medicine residency at the renowned New York Presbyterian—Columbia University Medical Center and he is board certified in internal medicine. He then began his ophthalmology residency at the prestigious New York Eye and Ear Infirmary of Mount Sinai. He went on to complete a glaucoma fellowship at the same institution. Dr. Adam Botwinick is a member of the American Society of Cataract & Refractive Surgery, the American Glaucoma Society, and the American Academy of Ophthalmology.
Ashwinee Ragam, M.D. is an ophthalmologist specializing in the diagnosis and treatment of corneal disorders and comprehensive ophthalmology. She obtained her degrees in a 7-year combined B.S. /M.D. program from The College of New Jersey and Rutgers New Jersey Medical School. Dr. Ragam completed a medical internship at Mount Sinai St. Lukes and Mount Sinai Roosevelt Hospitals. She then went on to ophthalmology residency at The New York Eye and Ear Infirmary of Mount Sinai, where she was selected to be Chief Resident in her final year. She remained at The New York Eye and Ear Infirmary as a fellow in Cornea, External Diseases and Refractive Surgery.
OCLI is one of seven managed practices to join Spectrum Vision Partners since November 2017, when Spectrum announced its strategic relationship with the growth-oriented, private equity firm Blue Sea Capital. Since then, 25 eye doctors and 10 locations have been added across five affiliates.
SVP administratively supports the growth and management of some of the leading ophthalmology practices and eye ambulatory surgery centers in the New York, New Jersey, and Connecticut Tri-State area. In addition to OCLI, managed practices include Island Eye Surgicenter, Ophthalmic Consultants of Connecticut ("OCC"), New Vision Cataract Center, Glaucoma Associates of Long Island, Precision Eye Care, and Huntington Eye Care.
In its first year of business, SVP grew from 400 employees to more than 700. The organization recently relocated to a new corporate office in order to provide improved customer service. The company offers its network of multi-specialty ophthalmologists a complete range of business services.
Tom Burke, CEO of Spectrum Vision Partners, commented, "OCLI is excited to continue to welcome high-caliber doctors such as Dr. Botwinick and Dr. Ragam to our team and provide world-class care to our patients and our community."
Spectrum will continue to assist OCLI to build centers of eye care excellence, with the best and brightest clinicians we can attract. I look forward to future partnerships with the community of eye care providers who recognize OCLIs long history of transparent business transactions, their focus on excellence, and Spectrums proven ability to fulfill their vision and meet their long-term goals."
For questions or further information regarding the OCLI team or Spectrum Vision Partners, please contact:
Tom Burke
Chief Executive Officer
tburke@www.spectrumvisionpartners.com
Justin Kuperberg
Chief Development Officer
jkuperberg@www.spectrumvisionpartners.com
About OCLI
Founded in 1997, OCLI (http://www.ocli.net) is one of the leading ophthalmology practices in the United States. OCLI boasts 21 state-of-the-art medical facilities across Manhattan, Nassau, and Suffolk counties, housing the most advanced technology available, to offer patients a variety of ophthalmic services and treatments. OCLI is led by 43 highly skilled eye surgeons in each major sub-specialty of eye care, providing comprehensive eye care services, including treatment for cataracts, corneal disease, refractive surgery, glaucoma, oculoplastics, retinal disease, and neuro-ophthalmology. OCLI also employs six Doctors of Optometry, three Physician Assistants, and one NYS Licensed Aesthetician.
About Spectrum Vision Partners
Spectrum Vision Partners (http://www.spectrumvisionpartners.com) is a leading management services organization, serving the ophthalmology sector. Spectrum Vision Partners has over 700 employees, providing world-class practice management solutions to a network of nationally renowned, multi-specialty ophthalmologists in the New York, New Jersey, Connecticut Tri-State region. The Spectrum platform in New York and Connecticut consists of 25 clinic locations, two State Licensed Ambulatory Centers, with 65 surgeons, doctors, and other medical professionals. Spectrum Vision Partners provides a comprehensive set of business support functions, including billing and collections, credential services, marketing, physician recruitment, ASC development, financial and accounting services, benefits and payroll management, and information technology. The companys corporate headquarters is located at 825 East Gate Boulevard, Suite 111, Garden City, NY 11530.
###
Looking to partner with us?
Let's get started.