Proudly supporting OCLI Vision
and other affiliated practices.
Dr. Eric D. Donnenfeld of OCLI Vision Named America's Best Eye Doctor by Newsweek
Posted on October 3, 2022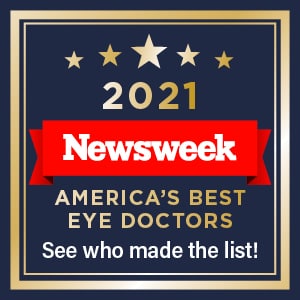 Dr. Donnenfeld tops Newsweek's 2021 list of top eye doctors, ranking first out of 150 ophthalmologists. OCLI Vision also had doctors Marguerite McDonald and Henry Perry honored on the list.
NEW YORK, N.Y. – August 4, 2021 – Eric D. Donnenfeld, MD, an internationally recognized refractive and cataract surgeon, has been named America's Best Eye Doctor 2021 by Newsweek. Dr. Donnenfeld ranks first out of 150 ophthalmologists with a near perfect score for quality of care, continuity of care, and the quality of the technology used in his practice. As his ranking shows, Dr. Donnenfeld has earned the respect of his peers and many other health professionals for the care and expertise he brings to the world of ophthalmology.
Dr. Donnenfeld is recognized as an expert in the field of cornea, laser cataract, and refractive surgery. One of the first 5 people in the world to perform both laser vision correction and laser cataract surgery, he has continued to expand his expertise in the field, performing over 70,000 laser correction surgeries on patients and on 1,000 eye doctors and their families. Considered a pioneer in cornea and refractive surgery techniques, he has participated in over 40 FDA studies, designed and patented six instruments for refractive surgery, authored more than 190 papers on cornea, external disease, and cataract and refractive surgery, and currently serves on the editorial board of nine journals.
Previous recognitions of his work include the Lifetime Achievement Award from the Nassau Surgical Society (youngest person to receive this award), named one of the Top 50 Most Influential Ophthalmologists in the U.S. by The Journal of Cataract & Refractive Surgery, and included on The Ophthalmologist's Power List 2018. Currently, Dr. Donnenfeld serves as a Cornea, Laser Cataract & Refractive Surgeon with OCLI Vision in Fairfield, CT and Garden City, NY. OCLI Vision is one of the world-class eye care practices fully supported by Spectrum Vision Partners, a management service organization focused on the ophthalmology sector.
"I am truly honored to be included among such a distinguished group of ophthalmologists and wish to congratulate them for their success. My goal throughout my career has been to advance the field of refractive, cornea, and cataract surgery and provide my patients with the highest quality of care." says Dr. Donnenfeld.
Tom Burke, Spectrum Vision Partners' CEO, says, "Dr. Donnenfeld's distinction as America's Best Eye Doctor and the inclusion of Dr. McDonald and Dr. Perry to this list is a testament to the unprecedented contributions they have made to the field of cornea and refractive surgery over the years and their dedication to their patients."
Another OCLI Vision doctor, Marguerite McDonald, MD, FACS, was also recognized in Newsweek for her superior expertise in the field of cornea, laser cataract & refractive surgery. She has been recognized for her pioneering work in refractive surgery that also included development and performance of the first excimer laser procedure in patients. Dr. McDonald has also received over 90 professional recognition awards including the ISRK Lans Distinguished Refractive Surgeon Lecture, the ISRK/AAO Barraquer Lecture, the AAO Whitney Sampson Lecture, the AAO Binkhorst Lecture, and the ASCRS Steinert Lecture.
OCLI Visions Henry D. Perry, MD was also recognized in Newsweek for his superior expertise in corneal and refractive surgeries. Dr. Perry is regarded as one of the leading corneal and refractive surgeons in the United States. In addition to this achievement, Dr. Perry has also won the Senior Honor Award and Honor Award from the American Academy of Ophthalmology. Most recently, Dr. Perry was awarded the Life Achievement Award from the American Academy of Ophthalmology for his contributions to ophthalmology; he is the first ophthalmologist from Long Island to win this award. Dr. Perry has also won several Best Doctor Awards and received the 2016 Premier Surgeon 300 designation given to the top 300 surgeons by Ocular Surgery News.
Newsweek ranked the top eye doctors in the U.S. using three criteria: the quality of care provided, the continuity of care provided, and the technology used in the doctors practices. To curate a qualified list of the best eye doctors, Newsweek started by selecting the 300 top ophthalmologists and optometrists from the 20 most populous states in the U.S. Then, they surveyed over 10,000 ophthalmologists, optometrists, clinic managers and other health care professionals.
For more information about OCLI Vision or Spectrum Vision Partners please contact:
Tom Burke
Chief Executive Officer
tburke@www.spectrumvisionpartners.com
Greg Wappett
Chief Development Officer
gwappett@www.spectrumvisionpartners.com
About OCLI Vision
Founded in 1997, OCLI Vision (https://www.ocli.net) is one of the leading ophthalmology practices in the United States. The practices of OCLI Vision offer eye care services at locations throughout Connecticut, New Jersey, New York, and Pennsylvania. OCLI is led by a large group of highly skilled ophthalmologists in each major sub-specialty of eye care, who provide comprehensive eye care services, including treatment for cataracts, corneal disease, glaucoma, retinal disease, oculoplastics, refractive surgery, and neuro-ophthalmology.
About Spectrum Vision Partners
Spectrum Vision Partners (https://www.spectrumvisionpartners.com) is a leading management services organization, serving the ophthalmology sector. With nearly 800 employees providing world-class practice management and administrative solutions to a network of nationally renowned, multi-specialty ophthalmologists in New York, New Jersey, Connecticut and Pennsylvania, Spectrum Vision Partners (SVP) supports 27 clinic locations, three state-licensed ambulatory centers, and over 70 surgeons, doctors and other medical professionals. Spectrum provides a comprehensive set of business support functions, including billing and collections, credential services, marketing, physician recruitment, ASC development, financial and accounting services, benefits and payroll management and information technology. The company's corporate service center is located at 825 East Gate Boulevard, Suite 111, Garden City, NY 11530.
Looking to partner with us?
Let's get started.