Proudly supporting OCLI Vision
and other affiliated practices.
Dr. Leah Bonaparte-Dotta, MD, Joins the OCLI Vision Team
Posted on October 3, 2022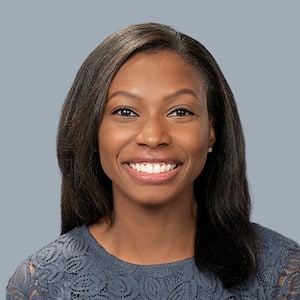 Allentown, PA – July, 2022 – OCLI Vision is delighted to announce the addition of the talented Leah Bonaparte-Dotta, MD, a board-certified, fellowship trained ophthalmologist and specialist in Pediatric Ophthalmology, to the Lehigh Valley Eye Center team of professionals. OCLI Vision is also celebrating the successful career of Mark S. Trachtman, MD, who has retired from the OCLI Vision team at the Lehigh Valley Eye Center. Starting July 11, 2022, Dr. Bonaparte-Dotta will welcome new and existing patients at both the Allentown and Bethlehem locations.
OCLI Vision is a leading ophthalmology practice whose growth is supported by the management and administrative services of Spectrum Vision Partners (SVP), an organization serving many of the top ophthalmology groups and ambulatory eye surgery centers in New York, New Jersey, Connecticut, Pennsylvania, and West Virginia.
Dr. Bonaparte-Dotta earned her medical degree and a Master of Science in Clinical Research from Medical University of South Carolina in Charleston. She then went on to pursue her ophthalmology residency at Nassau University Medical Center in New York. Dr. Bonaparte-Dotta completed her fellowship in Pediatric Ophthalmology from Storm Eye Institute at the Medical University of South Carolina. She is a specialist in pediatric ophthalmology and has served as an attending physician for the neonatal Intensive Care Unit (NICU) at Cape Fear Valley Hospital.
At the same time, Mark S. Trachtman, MD, a comprehensive pediatric ophthalmologist has made the decision to retire from the Lehigh Valley Eye Center. Dr. Trachtman practiced as a comprehensive pediatric ophthalmologist with Lehigh Valley Eye Center for nearly three decades. His training in medical and surgical treatment of eye muscle disorders, such as crossed eyes and double vision, made him a sought-after provider for the treatment of both children and adults. To ensure his patients receive the high-quality eye care they have come to expect, Dr. Trachtman recommends his patients continue their ophthalmic care at Allentown or Bethlehem.
"Thank you, Dr. Trachtman, for so many years of amazing service to your patients and to the communities of Allentown and Bethlehem. A big welcome to Dr. Bonaparte-Dotta. We know Dr. Trachtmans patients, and many new patients, are in good hands with your expertise on the OCLI Vision team," stated, OCLI Vision Managing Partner, Richard Sturm, M.D.
If youd like to schedule an appointment Monday – Saturday, please call our Allentown location 610-433-0450 or our Bethlehem location 610-867-9900.
About OCLI Vision
Founded in 1997, OCLI Vision (www.ocli.net) is one of the leading ophthalmology practices in the United States. The practices of OCLI Vision offer eye care services at locations throughout Connecticut, New Jersey, New York, Pennsylvania and West Virginia. OCLI Vision is led by a large group of highly skilled ophthalmologists and optometrists in each major sub-specialty of eye care who provide comprehensive eye care services, including treatment for cataracts, corneal disease, glaucoma, retinal disease, oculoplastics, refractive surgery, and neuro-ophthalmology.
About Spectrum Vision Partners Spectrum Vision Partners (SVP) (www.spectrumvisionpartners.com) is a leading management services organization, serving the ophthalmology sector. With nearly 1,300 employees providing world-class practice management and administrative solutions to a network of nationally renowned, multi-specialty ophthalmologists in New York, New Jersey, Connecticut, Pennsylvania and West Virginia, SVP supports over 40 clinic locations, five state-licensed ambulatory surgery centers, and over 110 surgeons, doctors and other medical professionals. SVP provides a comprehensive set of business support functions, including billing and collections, credential services, marketing, physician recruitment, ASC development, financial and accounting services, benefits and payroll management and information technology. The companys corporate service center is located at 825 East Gate Boulevard, Suite 111, Garden City, NY 11530.
Looking to partner with us?
Let's get started.