Proudly supporting OCLI Vision
and other affiliated practices.
NY Vision Group Joins Distinguished OCLI Vision Ophthalmology Practice to Ensure Continued Focus on High-Quality Patient Care
Posted on October 3, 2022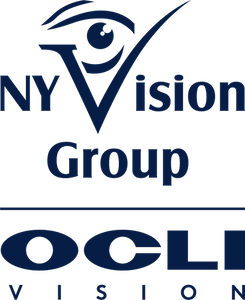 New York, NY – August, 2022 – Once again, OCLI Vision is expanding its team of exceptionally talented eye care specialists with the acquisition of NY Vision Group. OCLI Vision, a multi-practice ophthalmology group located in the Northeast, is committed to expanding access to advanced eye care services throughout the region and supporting eye care specialists through innovative programs. NY Vision Group provides cataract, LASIK, glaucoma, retina, and uveitis services from their offices in Tribeca (Manhattan), Richmond Hill (Queens), and Bushwick (Brooklyn), NY.
OCLI Vision is a leading ophthalmology practice whose growth is supported by the management and administrative services of Spectrum Vision Partners (SVP), an organization serving many of the top ophthalmology groups and ambulatory eye surgery centers in New York, New Jersey, Connecticut, Pennsylvania and West Virginia. NY Vision Group is Spectrum's 21st affiliation since 2017.
"2021 was a growth-filled year for OCLI Vision and SVP, and we are delighted to start this third quarter of 2022 with another acquisition," says Tom Burke, SVP's CEO. "NY Vision Group is a multi-specialty practice focused on bringing advanced technology and innovative surgical techniques to their patients. This group of highly talented doctors is well poised to help us achieve our future goals. We're delighted they are joining the team and look forward to many successful endeavors."
Joining OCLI Vision from NY Vision Group is Harry Koster, MD and his talented group of eye care doctors and surgeons detailed here: nyvisiongroup.com.
The doctors at NY Vision Group have a wealth of experience providing the highest standards of care to their patients. The group's mission is to preserve vision and treat disease early using the best detection technologies available and the best medical and surgical care for patients. NY Vision Group's doctors have trained at top institutions and boast reputable affiliations, making this group of eye care specialists the perfect choice for eye care in New York City, Queens and Brooklyn.
"We're thrilled to be joining the OCLI Vision Group," noted Harry Koster. "Throughout our history of providing high-quality services to the communities of New York City, we have built an incredibly talented team of premiere eye care specialists. Joining OCLI Vision gives us the opportunity to continue to further our education, utilize the most advanced technology and surgical techniques, and learn from a group of experienced professionals. We're looking forward to our future together."
For more information about OCLI Vision and Spectrum Vision Partners, please contact:
Tom Burke
Chief Executive Officer
tburke@www.spectrumvisionpartners.com
Greg Wappett
Chief Development Officer
gwappett@www.spectrumvisionpartners.com
About OCLI Vision
Founded in 1997, OCLI Vision (www.ocli.net) is one of the leading ophthalmology practices in the United States. The practices of OCLI Vision offer eye care services at locations throughout Connecticut, New Jersey, New York, Pennsylvania, and West Virginia. OCLI Vision is led by a large group of highly skilled ophthalmologists and optometrists in each major sub-specialty of eye care who provide comprehensive eye care services, including treatment for cataracts, corneal disease, glaucoma, retinal disease, oculoplastics, refractive surgery, and neuro-ophthalmology.
About Spectrum Vision Partners
Spectrum Vision Partners (SVP) (www.spectrumvisionpartners.com) is a leading management services organization, serving the ophthalmology sector. With nearly 1,300 employees providing world-class practice management and administrative solutions to a network of nationally renowned, multi-specialty ophthalmologists in New York, New Jersey, Connecticut, Pennsylvania and West Virginia, SVP supports over 40 clinic locations, five state-licensed ambulatory surgery centers, and over 110 surgeons, doctors and other medical professionals. SVP provides a comprehensive set of business support functions, including billing and collections, credential services, marketing, physician recruitment, ASC development, financial and accounting services, benefits and payroll management and information technology. The companys corporate service center is located at 825 East Gate Boulevard, Suite 111, Garden City, NY 11530.
About Blue Sea Capital
Blue Sea Capital (www.blueseacapital.com) is a private equity firm based in West Palm Beach, Florida, that invests in growth-oriented lower middle market companies valued up to $250 million. The firm has more than $750 million in assets under management and invests across three industry verticals: aerospace & defense, healthcare, and industrial growth. Blue Sea Capitals strategy is to partner with talented managers and differentiated companies, typically as the first or second institutional investor, and deliver strategic and operational value-add that drives growth acceleration, industry outperformance and business transformation.
Looking to partner with us?
Let's get started.