Proudly supporting OCLI Vision
and other affiliated practices.
OCLI Partners with Bionic Sight in Clinical Trial of New Treatment for Blindness
Posted on October 3, 2022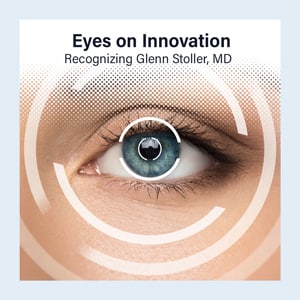 State-of-the-art eye care practice to assess Bionic Sights optogenetic therapy for blindness caused by retinitis pigmentosa
NEW YORK, N.Y. – November 17, 2020 – OCLI, one of the leading ophthalmology practices in the United States, today announced that it's starting a clinical trial in partnership with Bionic Sight, the developer of BS01, a new investigational therapy for patients with advanced retinitis pigmentosa (RP).
Glenn Stoller, MD, a board-certified OCLI ophthalmologist who specializes in retinal diseases and is a member of the prestigious Retina Society, will serve as the principal investigator of this groundbreaking clinical trial that will assess the safety and effectiveness of BS01, an optogenetic gene therapy. Trial participants will be assigned to one of three groups, with each group receiving a different dose of BS01.
Eager to begin investigating this novel treatment, Dr. Stoller says, "As a passionate researcher of new therapies for retinal diseases, I'm looking forward to leading this cutting-edge clinical trial. Retinitis pigmentosa is a rare degenerative retinal disease whose early symptoms include the loss of peripheral vision and decreased night vision, which over time can lead to life-changing vision loss. Part of what's so exciting about this study of BS01 therapy is its potential to help all forms of RP, since it's agnostic to the specific underlying genetic defect."
BS01 therapy delivers optogenetic proteins to the retina's output cells, which remain healthy in RP patients. The optogenetic proteins allow these cells to send neural signals through the optic nerve to visual areas in the brain. Bionic Sight combines the optogenetic therapy with a state-of-the-art device developed by Dr. Sheila Nirenberg, which makes the signals sent by the output cells closely match those that would be sent by a normal retina.
"A key issue for producing meaningful vision is to send signals to the brain that the brain can understand," explains Dr. Nirenberg, a professor at the Weill Medical College of Cornell University. "If you can deliver signals in the language the brain understands, then meaningful perceptions become possible."
OCLI's Dr. Stoller adds, "Bionic Sight's innovative new brain-signaling therapy could potentially restore vision to RP patients with advanced-stage blindness and I'm proud to be a member of such a knowledgeable research team."
For more information about OCLI and Spectrum Vision Partners, please contact:
Tom Burke
Chief Executive Officer
tburke@www.spectrumvisionpartners.com
Justin Kuperberg
Chief Development Officer
jkuperberg@www.spectrumvisionpartners.com
About OCLI
Founded in 1997, OCLI (https://www.ocli.net) is one of the leading ophthalmology practices in the United States. With 20 state-of-the-art clinics in New York, it offers the most advanced technology available, providing patients with a wide range of ophthalmic services and treatments. OCLI is led by a large group of highly skilled ophthalmologists in each major sub-specialty of eye care, who provide comprehensive eye care services, including treatment for cataracts, corneal disease, glaucoma, retinal disease, oculoplastics, refractive surgery, and neuro-ophthalmology.
About Spectrum Vision Partners
Spectrum Vision Partners (https://www.spectrumvisionpartners.com) is a leading management services organization, serving the ophthalmology sector. With nearly 800 employees providing world-class practice management and administrative solutions to a network of nationally renowned, multi-specialty ophthalmologists in New York, New Jersey, Connecticut and Pennsylvania, Spectrum Vision Partners (SVP) supports 27 clinic locations, three state-licensed ambulatory centers, and over 70 surgeons, doctors and other medical professionals. Spectrum provides a comprehensive set of business support functions, including billing and collections, credential services, marketing, physician recruitment, ASC development, financial and accounting services, benefits and payroll management and information technology. The company's corporate service center is located at 825 East Gate Boulevard, Suite 111, Garden City, NY 11530.
About Bionic Sight
Bionic Sight (https://www.bionicsightllc.com) is a technology company that develops optogenetic gene therapy vectors and devices to treat retinal degenerative diseases. The company leverages the research of Dr. Sheila Nirenberg, the founder of Bionic Sight and a professor at the Weill Medical College of Cornell University, whose work focuses on neuroscience and its applications to brain/machine interfaces and computer vision. Her work on deciphering the retina's neural code has been described in TED talks, an NBC documentary, a Bloomberg documentary, the Discovery Channel, and Scientific American, as well as in peer-reviewed journals and patents. For more information about this technology, visit https://www.bionicsightllc.com
Looking to partner with us?
Let's get started.