Proudly supporting OCLI Vision
and other affiliated practices.
OCLI PRESENTS IMPRESSIVE ROSTER FOR ITS 28TH CONTINUING EDUCATION DAY FOR OPTOMETRISTS
Posted on October 3, 2022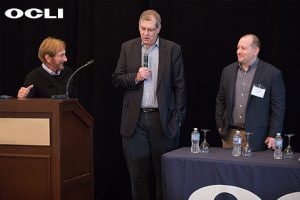 OCLI, a Spectrum Vision Partners ("SVP") managed practice, is a multi-location, best-in-class ophthalmology practice recognized for leadership and innovation, hosted their 28th Continuing Education Day for Optometrists at The Heritage Club in Farmingdale, NY.  The event was attended by 205 Optometrists who earned COPE credits while learning about advancements in ophthalmic diagnostic tools and treatment protocols. OCLI lecturers included; Dr. Bokkwan Jun, Dr. Alison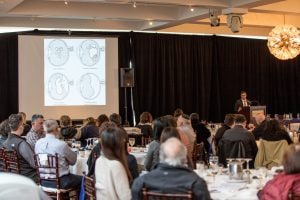 Angelilli, Dr. Paul Krawitz, Dr. Eric Donnenfeld, Dr. Ketan Laud, and were joined by Dr. Richard Mackool and Dr. RJ Mackool, from the Mackool Eye Institute and Laser Center, Astoria, NY.
"OCLI has consistently provided a quality CE program, and as we grow and evolve, we hope to welcome more attendees to learn about the innovation our physicians and partners are working toward," says Tom Burke, CEO of Spectrum Vision Partners. "The excitement for our program increases with each new offering, and we intend to sustain that momentum.
"Our program created a buzz that lead to a strong turnout for this CE event, and I would attribute that to the caliber of speakers we had presenting," claims Dr. Eric Donnenfeld.  "Our lecture hall held collective centuries of experience and innovation in ophthalmic surgery."
"OCLI's CE event is of extremely high quality.  It is also superbly organized, and it was a pleasure to join the thought-leaders on the faculty," stated Dr. Richard Mackool of the Mackool Eye Institute and Laser Center.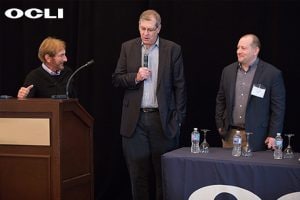 "The attendees were engaged and interested, asked thoughtful questions, and clearly enjoyed the collegial interchange," noted Dr. R.J. Mackool.
OCLI has hosted the event twice a year, offering a wide range of topics presented by some of the top Ophthalmologists.  The presenters spoke about alternative surgical protocols for increased success in patient outcomes, challenging case studies, nuances to aid in early detection of various conditions, and methodology for OCT interpretation.  Attendees also seized the opportunity to network and get to know the OCLI team first-hand.
About OCLI
Founded in 1997, OCLI is one of the leading ophthalmology practices in the United States. OCLI boasts 19 state-of-the-art medical facilities across Manhattan, Nassau, and Suffolk counties, housing the most advanced technology available, to offer patients a variety of ophthalmic services and treatments. OCLI is led by 39 highly skilled eye surgeons in each major sub-specialty of eye care, providing comprehensive eye care services, including treatment for cataracts, corneal disease, refractive surgery, glaucoma, oculoplastics, retinal disease, and neuro-ophthalmology. OCLI also employs six Doctors of Optometry, three Physician Assistants, and one NYS Licensed Aesthetician.
About Spectrum Vision Partners
Spectrum Vision Partners is a leading management services organization, serving the ophthalmology sector. Spectrum Vision Partners has over 750 employees, providing world-class practice management solutions to a network of nationally renowned, multi-specialty ophthalmologists in the New York, New Jersey, Connecticut Tri-State region. The Spectrum platform in New York and Connecticut consists of 23 clinic locations, two State Licensed Ambulatory Centers, over 50 surgeons, doctors, and other medical professionals. Spectrum Vision Partners provides a comprehensive set of business support functions, including billing and collections, credential services, marketing, physician recruitment, ASC development, financial and accounting services, benefits and payroll management, and information technology. The companys corporate service center is located at 825 East Gate Boulevard, Suite 111, Garden City, NY 11530.
About The Mackool Eye Institute
Located in Astoria, Queens, The Mackool Eye Institute was the first free-standing ambulatory surgery center in New York and has been in existence since 1983.  Forty-four attending surgeons provide the highest quality of eye care including corneal, cataract, retinal, glaucoma, vitreous and laser surgery.  The medical director, Dr. Richard Mackool, and assistant medical director, Dr. R.J. Mackool, are internationally recognized experts in the field of ocular microsurgery and have over 100 US and international patents for microsurgical instruments.  Both doctors lecture throughout the United States and abroad.
Looking to partner with us?
Let's get started.