Proudly supporting OCLI Vision
and other affiliated practices.
Respected Valley Stream office of OCLI Moves to Larger Space
Posted on October 3, 2022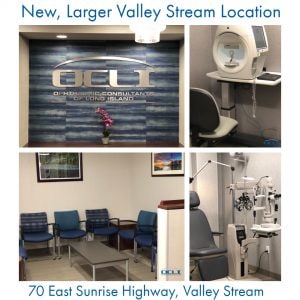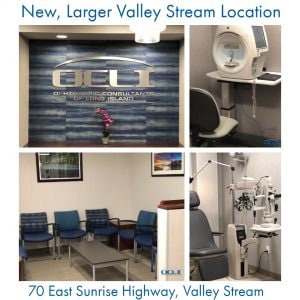 OCLI, a Spectrum Vision Partners managed practice, has relocated its Valley Stream office to a new, larger space at 70 East Sunrise Highway, Suite 400, Valley Stream, NY 11581. The new location will enable the practice to better serve the needs of its patients.
According to Gerard DAversa, MD, "After serving the Valley Stream community for over 15 years, we are now moving with the OCLI Valley Stream doctors, Swerdin, McKeague, Garibaldi, Galstian and DAversa, Jr., to a new, larger office space. This will make it easier to provide the exceptional care our patients have come to expect from us."
OCLI boasts some of the nations most highly skilled and qualified specialists, considered to be Long Islands LASIK, glaucoma, cornea, oculoplastic and cataract surgery experts. Each physician at OCLI has extensive medical training. Many are recognized for innovative medical achievements, including performing the first refractive surgery in the world. A larger Valley Stream space will allow these highly trained physicians to provide expert eye care to more of the Valley Stream and surrounding communities.
Decades after its founding, OCLIs mission is continually being met with modern, state-of-the-art office locations across Nassau and Suffolk counties. The group includes over 40 eye care professionals, known for their clinical expertise, innovative care, and compassionate bedside manner.
About OCLI
Founded in 1997, OCLI (www.ocli.net) is one of the leading ophthalmology practices in the United States. OCLI boasts  19 state-of-the-art medical facilities across Nassau and Suffolk counties, housing the most advanced technology available, and offering patients a variety of ophthalmic services and treatments. OCLI is led by over 40 highly skilled eye surgeons in each major sub-specialty of eye care and six doctors of ophthalmology, providing comprehensive eye care services, including treatment for cataracts, corneal disease, refractive surgery, glaucoma, oculoplastics, retinal disease, neuro ophthalmology, and optometry.
About Spectrum Vision Partners
Spectrum Vision Partners is a leading management services organization serving the ophthalmology sector. Spectrum Vision Partners has over 700 employees providing world-class practice management solutions to a network of nationally renowned multi-specialty ophthalmologists in the Tri-State region. Spectrum Vision Partners provides a comprehensive set of business support functions, including billing and collections, marketing, financial and accounting services, benefits and payroll management and information technology.
Looking to partner with us?
Let's get started.